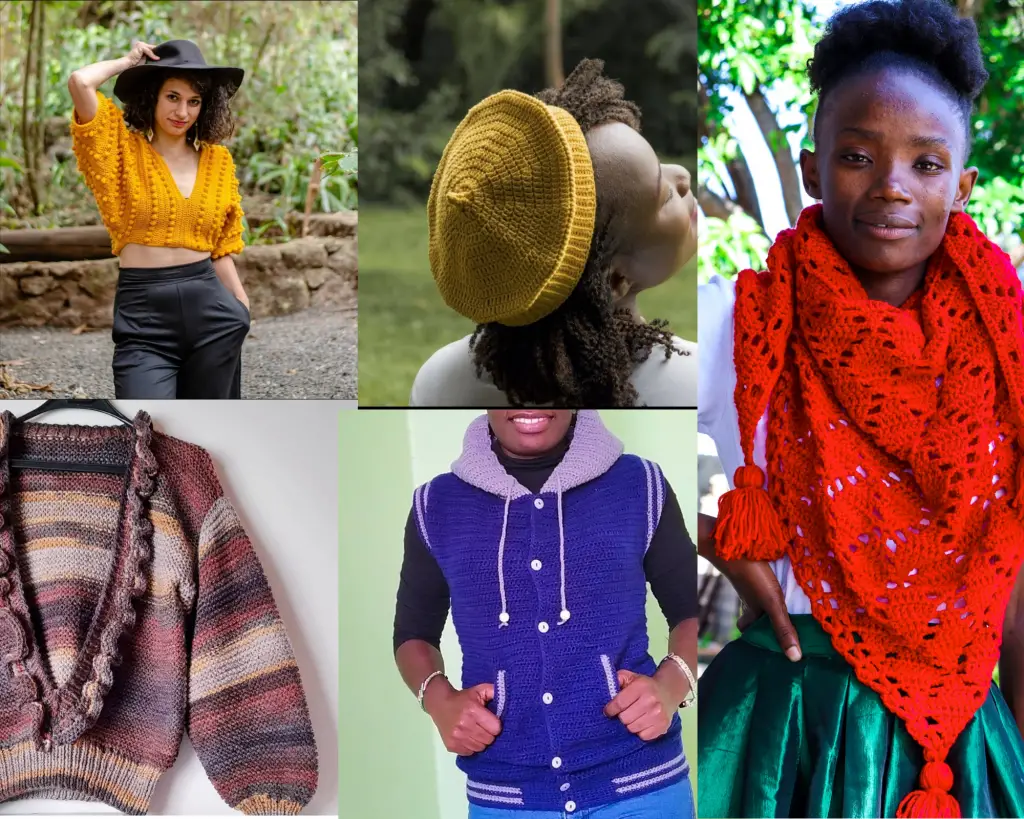 Crochet, just like any other form of art, is beautiful and special in its own way. For a long time, it's been perceived as an old woman's hobby or pastime activity. Can you believe me if I told you that more young people are joining this community, and they are enjoy it? For instance, during the pandemic, most people started crocheting just for fun but never stopped.
When I started crocheting, I went looking out for other crochet artists in Kenya and not many were there at the time, or maybe, I didn't just find them. 
Over the years, crochet has not only been appreciated globally, but also locally. There are many upcoming fiber artists and some are earning so well from it. 
If you are interested to learn more or just get some inspiration, here are some of the Kenyan crochet & knit artists you should look out for.
Akoth is the first crochet artist I met when starting out and she was so sweet and encouraging. she constantly gave me every reason to perfect my skill and I'm forever indebted to her. She is so talented and works with vibrant colors, you won't resist going through her Instagram feed.
Joan is also one of the few artists I met when starting out. She specializes in bridal gowns and other crochet garments. One thing that constantly amazes me about her is how she crocheted her wedding gown and looked stunning in it. She also have a YouTube channel where she shares tutorials on how to recreate her pieces and also owns a yarn shop.
Lorraine is a multitalented individual who crochets and knits. If you need knitting inspiration, then Lorraine's Instagram account is for you. From brilliant colors to earth tones, she places every color in it's place.
Ruth calls herself a yarndesigner. She knits lovely pillow covers, chunky scarves and oversized sweaters. She also models her pieces and her Instagram feed will leave you yearning for more.
Another favorite designer. Morine is dedicated to create fun and colorful designs. She designs beautiful blankets, home décor and amigurumis. She also shares free patterns on her blog that are beginner friendly for any one who wishes to make them.
Wangari has developed an inspiring niche in crochet and sewn toys. Her main goal is to Create diverse dolls & toys which positively influence children to be the best version of themselves. How cool is this? If you would like to know about her or support her, check out her website Here.
I love Valary so much. One of the reason being, she's so resilient and hardworking. She is a secondary school teaches but also manages to run her business like its a full time job. I met Val in 2018 and we were immediately inseparable, probably because we could crochet together and inspire each other. She makes crochet shoes, seat covers, throws, jackets and many more, which has made earn several awards.
8. Georginah
Georginah has perfected her crochet and speed over the years. She mostly makes sweaters, cardigans and hats with her own touch to them. I love her choice of color and how fast she responds to clients.
9. Agnes
If you watch crochet YouTube tutorials, then you should know Agnes. She is one of the few that started making tutorials during the pandemic and has taken it by storm. She uploads new tutorials almost weekly and her designs are mostly chic.
10. Vee
Valentine is one of the few that found success in the fiber industry. She makes beautiful mats and has curated a fun Instagram feed. She also started a merch and is selling beautiful bags and pins for the yarnists out there. Check her out on Instagram to learn more and support her.