You've probably seen cute crochet tulip flower banquets and wondered how to make them. Crochet flowers are fun and easy accessories to make when taking a break from bigger projects. Now being summer, you've probably laid aside your cardigan and blanket projects and are wondering what to make .
Beside being easy and fun flower pattern, the crochet tulip stitch adds vibrance in any space. You can decide to make them in multiple colors or just in one color. Either way, they will add life in your house and guess what! they will never dry up. Cool, right?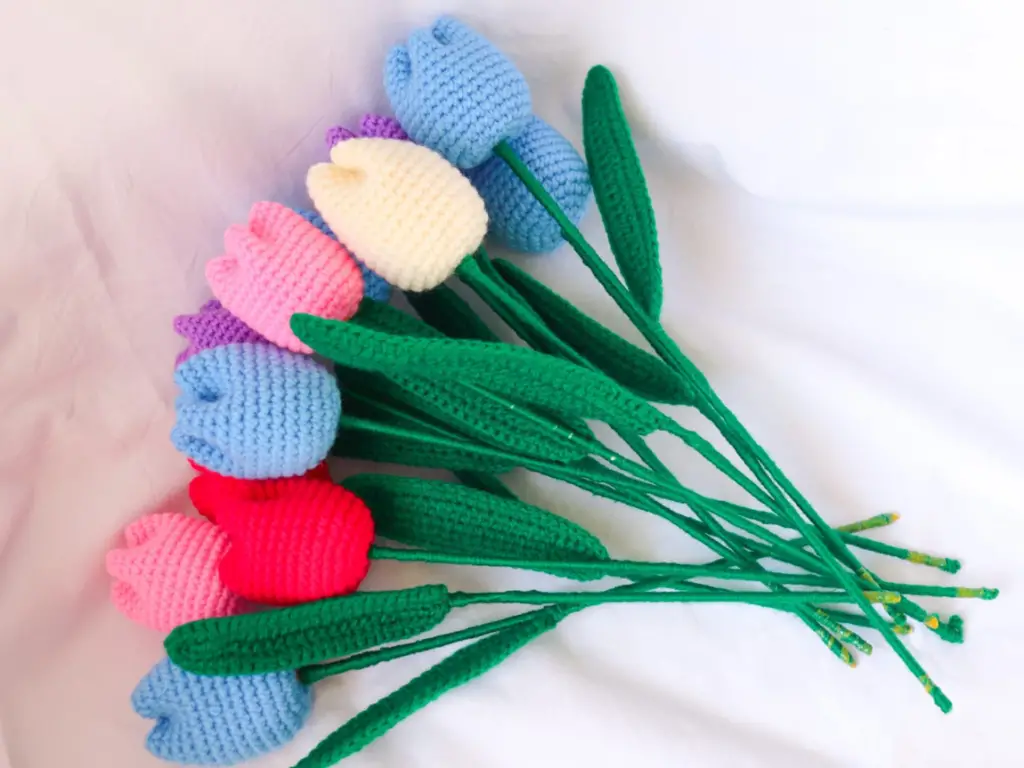 The crochet tulip flower pattern only use the single crochet, for the petals, half double crochet and double crochet for the leaves. This makes it super easy even for an absolute beginner. You don't have a reason for not owning one.
Okay, let's now get into work.
Table of Contents
THE PATTERN IS WRITTEN IN US TERMINOLOGY.
Skill Level: Easy
Yarn Weight: light (size 3) or 2 strands of fine yarn
This post may contain affiliate links or referrals.
Materials needed.
Light weight yarn. I used two strands of fingering yarn, 100% acrylic. You however have the liberty of using any fiber content, as long as its light weight.
2.5mm crochet hook.
Glue gun & glue sticks. Or any fabric glue.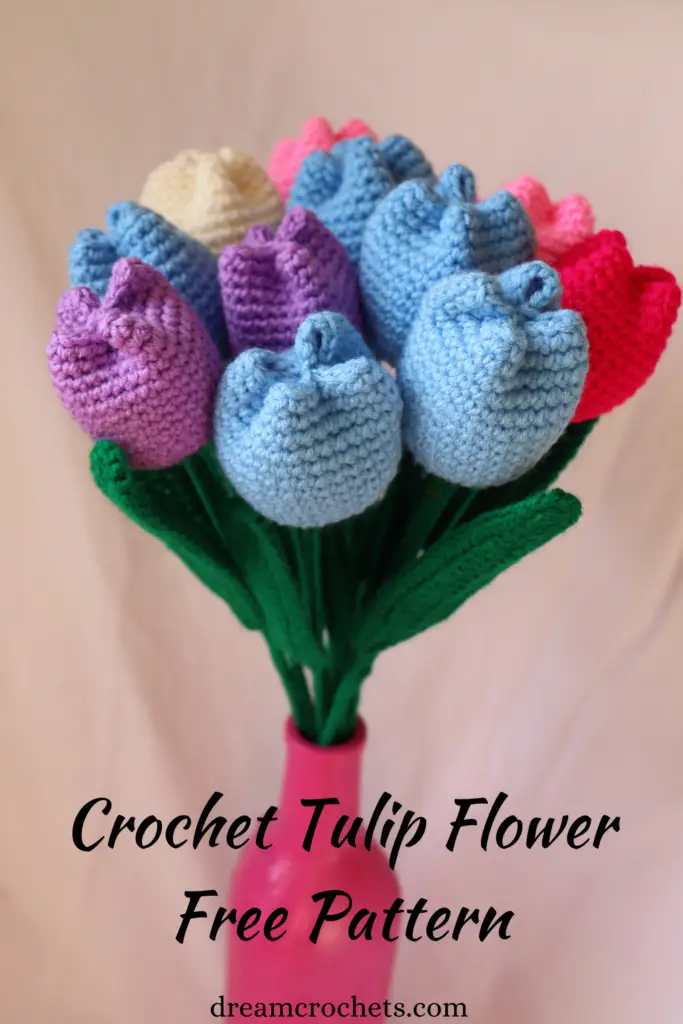 Notes
The flower is made in 2 parts (petal and leaf) which are assembled on the stem later.
The petal is made in spiral rounds without joining at the end of each round.
Part of the pattern is written in shorthand: where, sc 2, means you place 1 sc in the next 2 sts, while 2 sc means you place 2 sc stitches in the same stitch/ space.
Place marker in the first st of every round.
Repeat pattern instructions after asterisk * , as stated in the pattern.
ch 1 at he beginning of a row for the leaves do not count as a stitch.
Gauge
20 sts and 22 rows of sc stitches measure 4″ x 4″.
Abbreviations/Stitches Used.
sc – single crochet MR– Magic ring
hdc – half double crochet pm – place marker
dc – double crochet
st – stitch
rep – repeat
pat – pattern
Crochet Tulip Pattern.
Petal.
Start with a magic ring.
Round 1.
ch 1, 8 sc in the MR. Do not join round.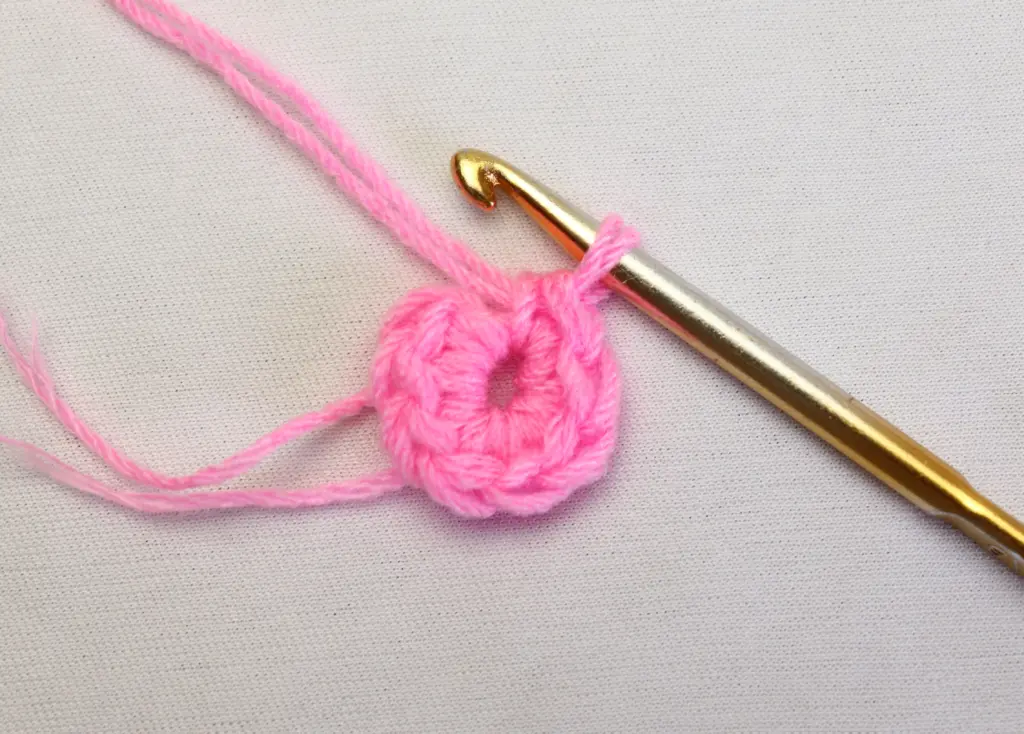 Round 2.
2sc in each stitch. 16sts. pm in the first st.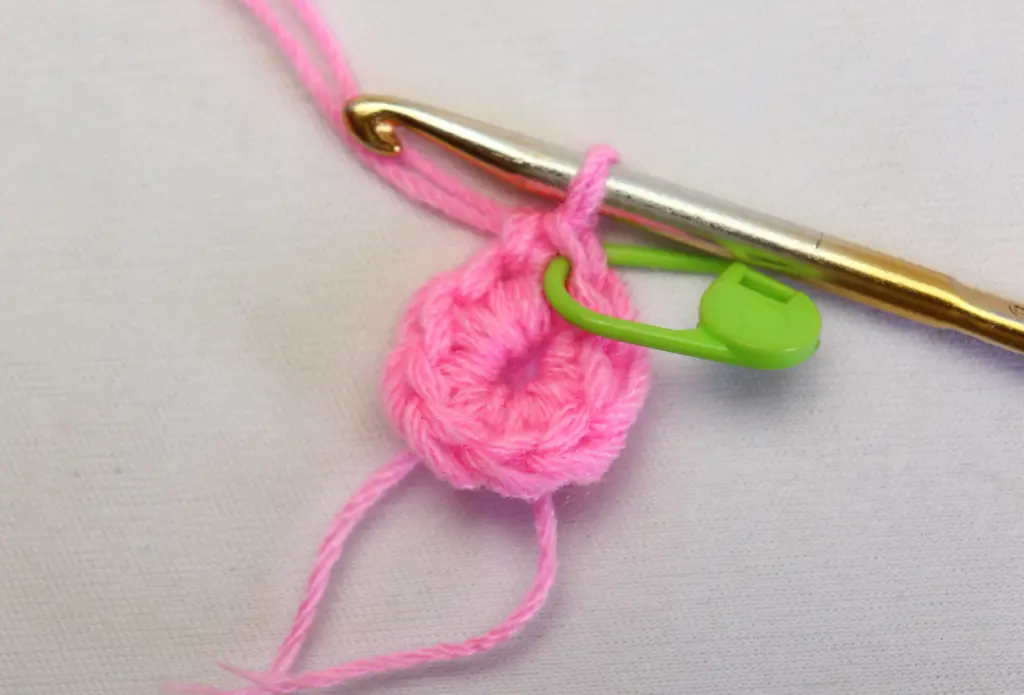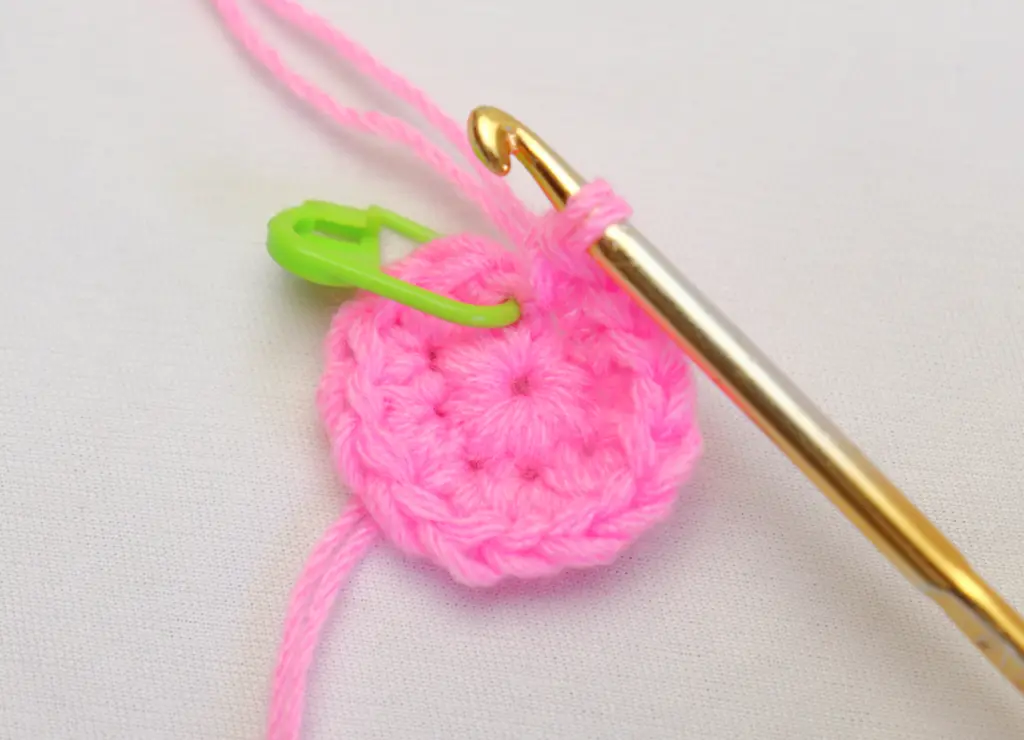 Round 3.
*sc, 2sc, repeat from * to end of round. 24sts
Round 4.
*sc 2, 2sc, repeat from * to end of round. 32 sts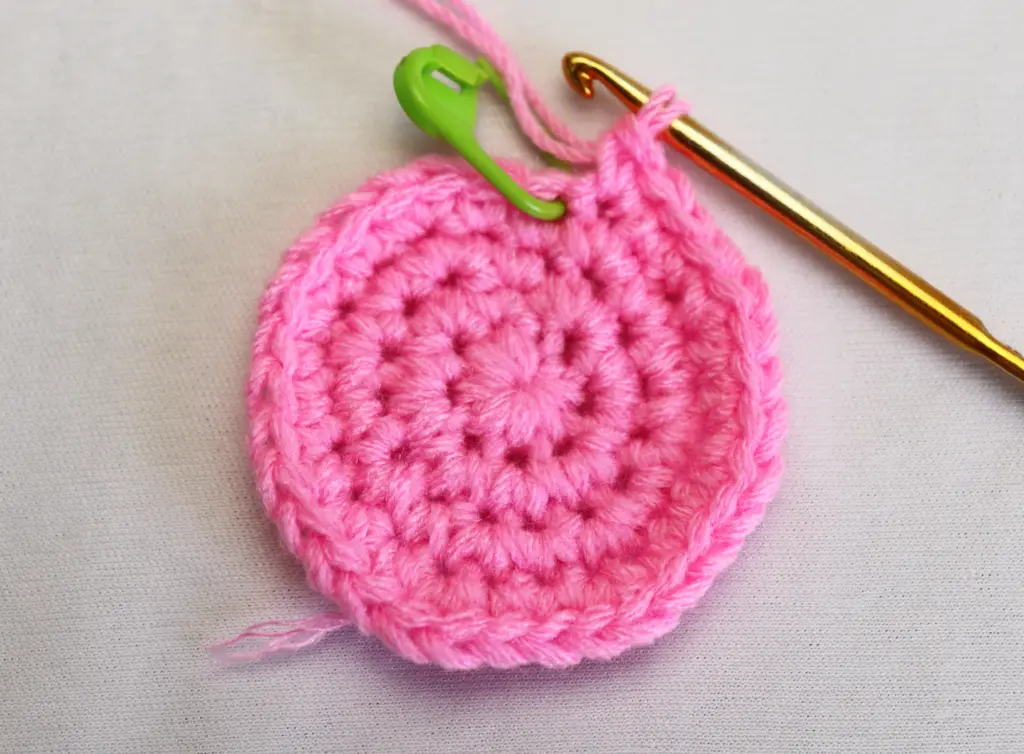 Round 5 to 15.
sc in each stitch around. 32 sts.
At the end of round 15, cut yarn and pull it through the last st.
Insert the polyfill fiber in the petal and fill it.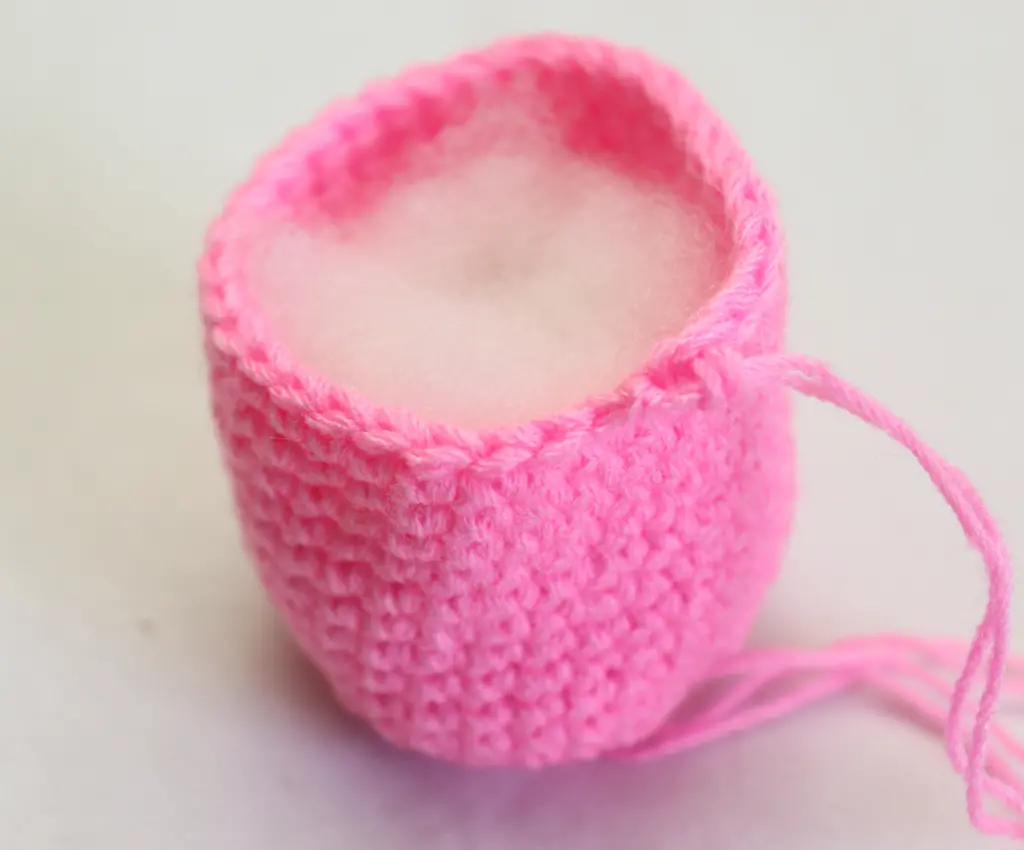 Close it by following the steps in the picture below.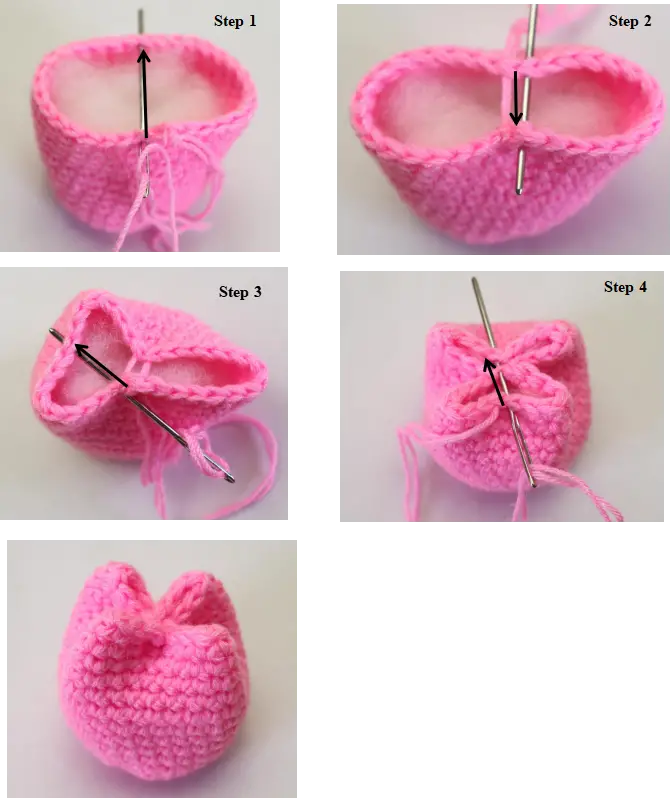 Leaves Pattern.
With green yarn,
Short leaf
ch 26,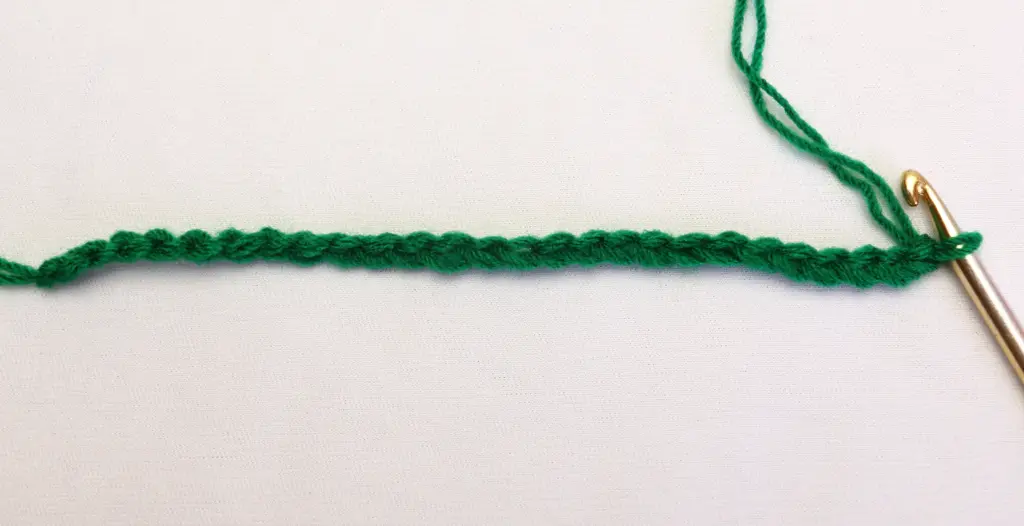 Row 1.
skip the first ch, sc 5, hdc 15, sc 4,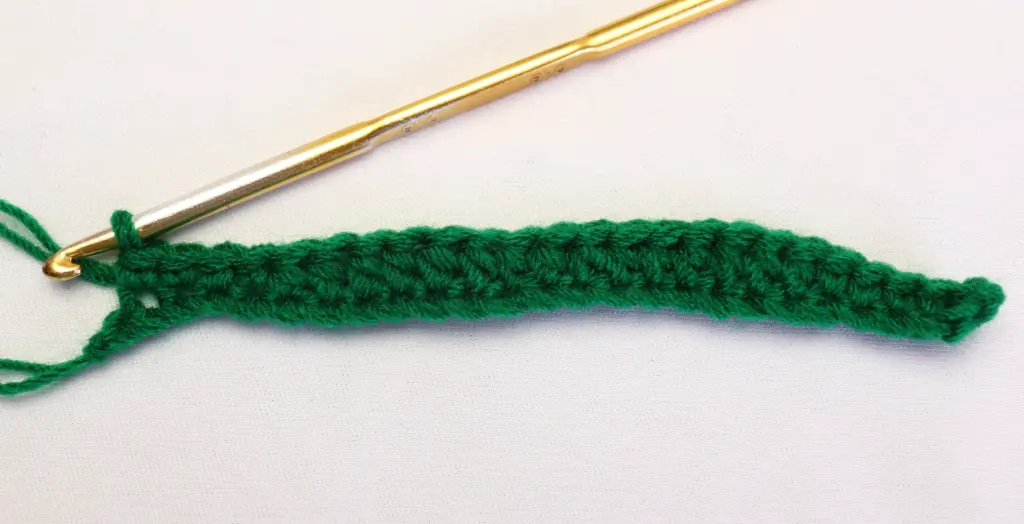 3sc in the last ch,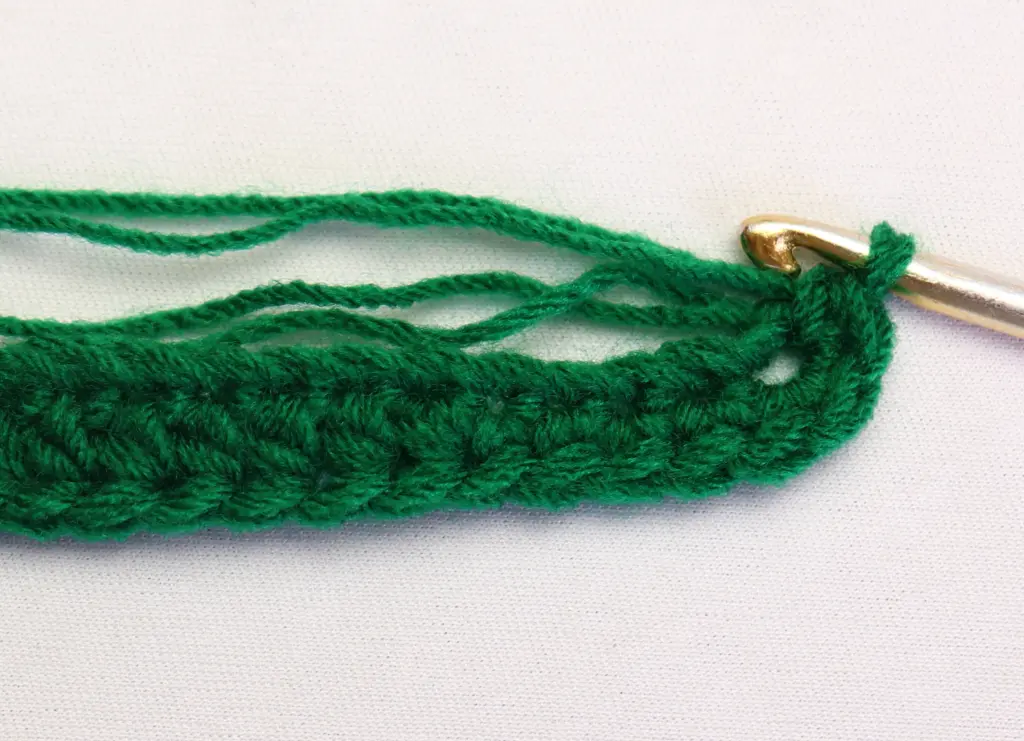 turn to opposite side, sc 4, hdc 15, sc 5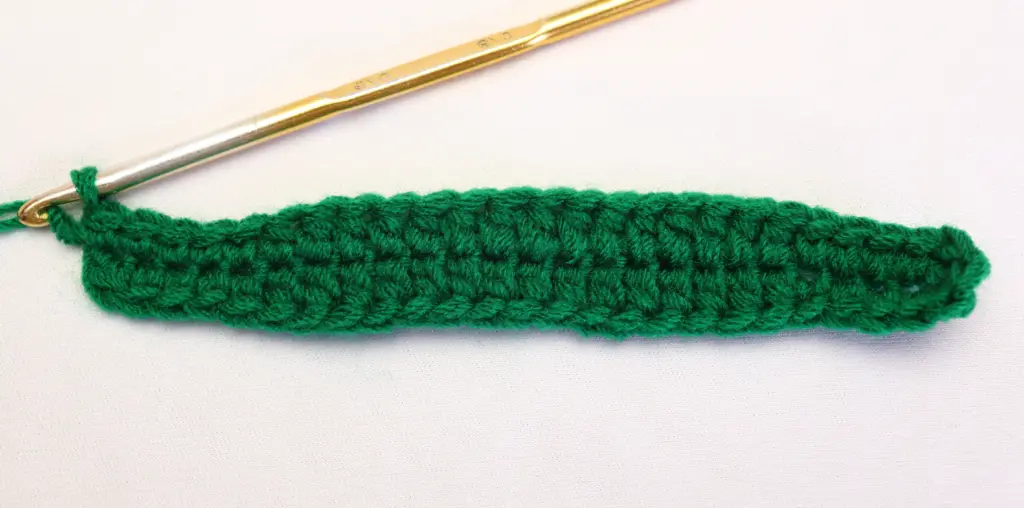 Row 2.
Cut about 18″ of wire and lay it over your work as shown below.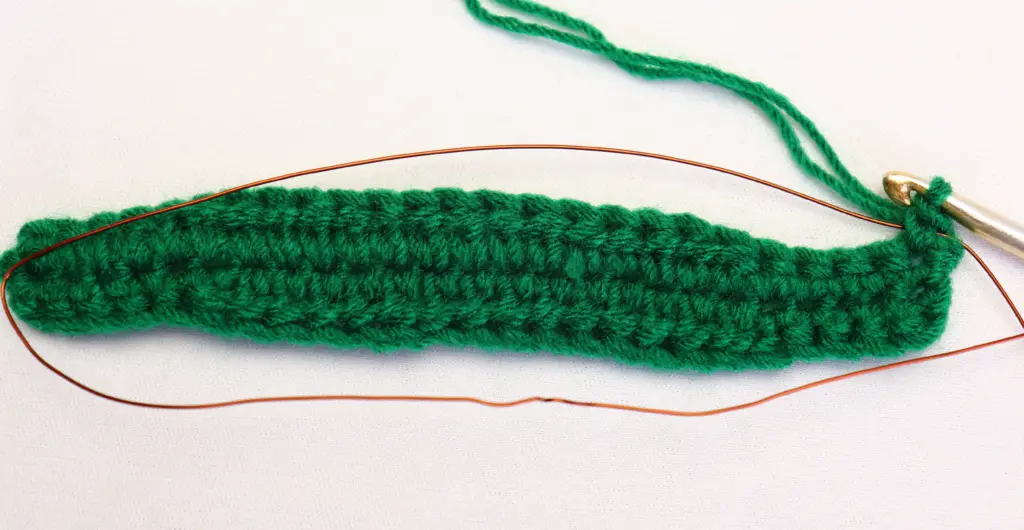 sc 25, 3sc in next st, sc 25.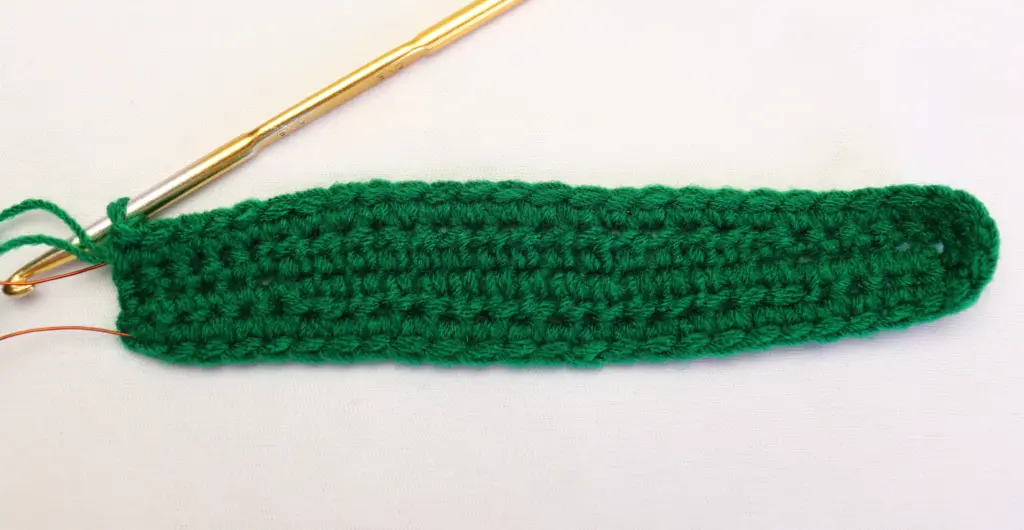 Sl st in the first st of row 2 and cut yarn leaving about 8″ tail.
Wrap the remaining wire with the yarn tail.
Long leaf.
ch 32
Row 1.
skip first chain, sc 3, hdc 5, dc 15, hdc 5, sc 2, 3sc in the last ch. turn to opposite side, sc 2, hdc 5, dc 15, hdc 5, sc 3.
Row 2.
Cut about 24″ of wire and lay it over your work.
sc 31, 3sc, sc 31. sl st in the first st to join.
Cut yarn leaving about 8″ of tail.
wrap the tail around the remaining wire.
Assembly.
Step 1.
Insert wooden dowel in the center of the petal and glue it.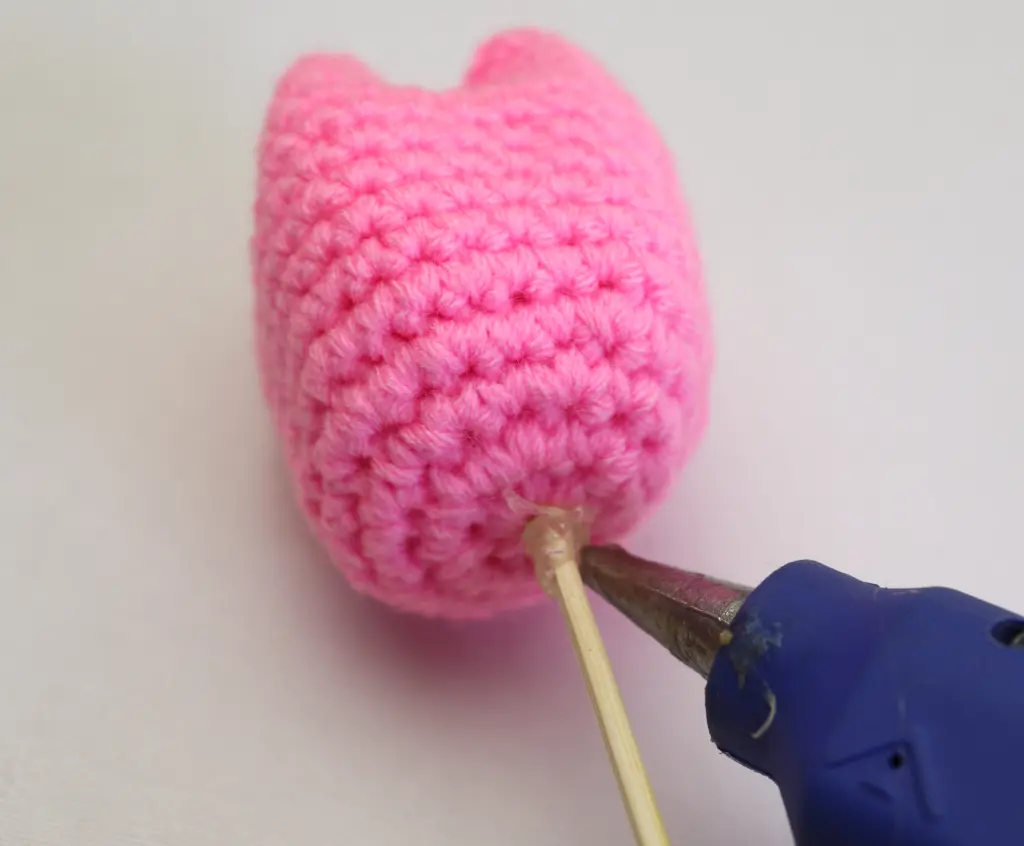 Step 2.
wrap green yarn from the bottom of the petal toward the center of the wooden dowel.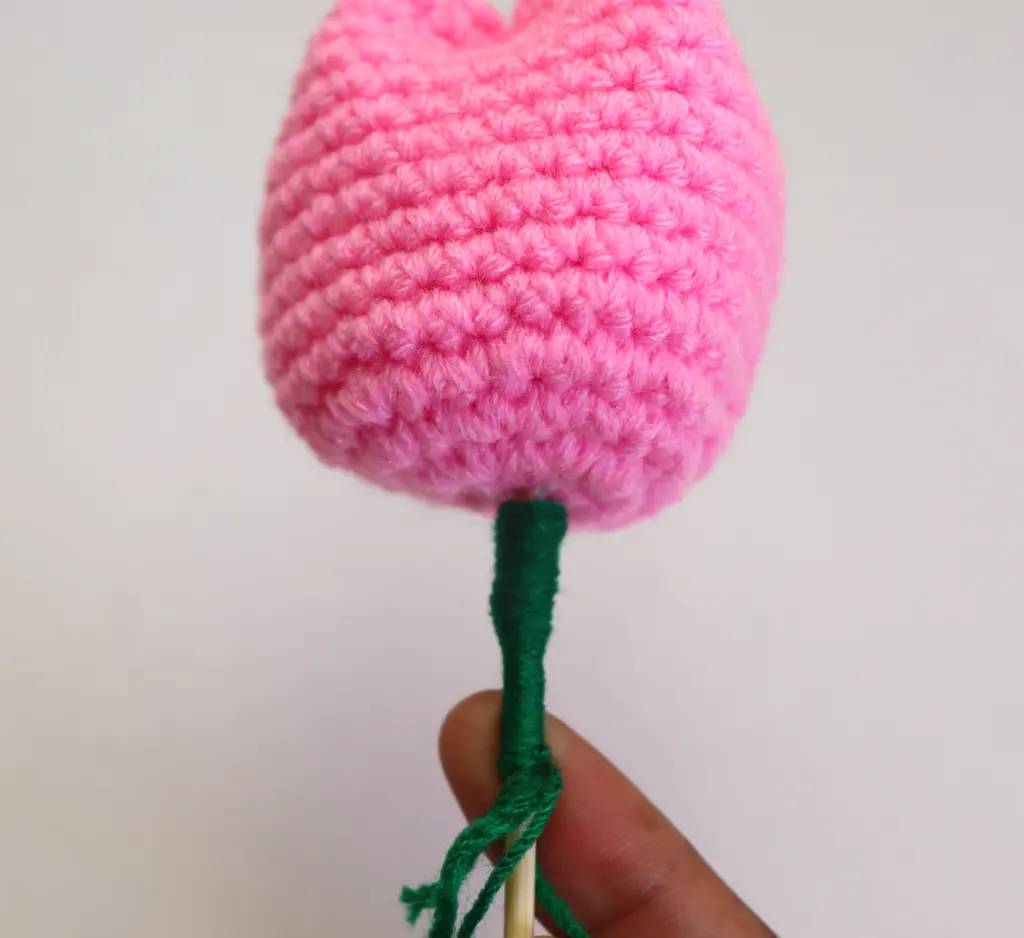 Step 3.
wrap the leaf around the wooden dowel and hide the wire with the green yarn.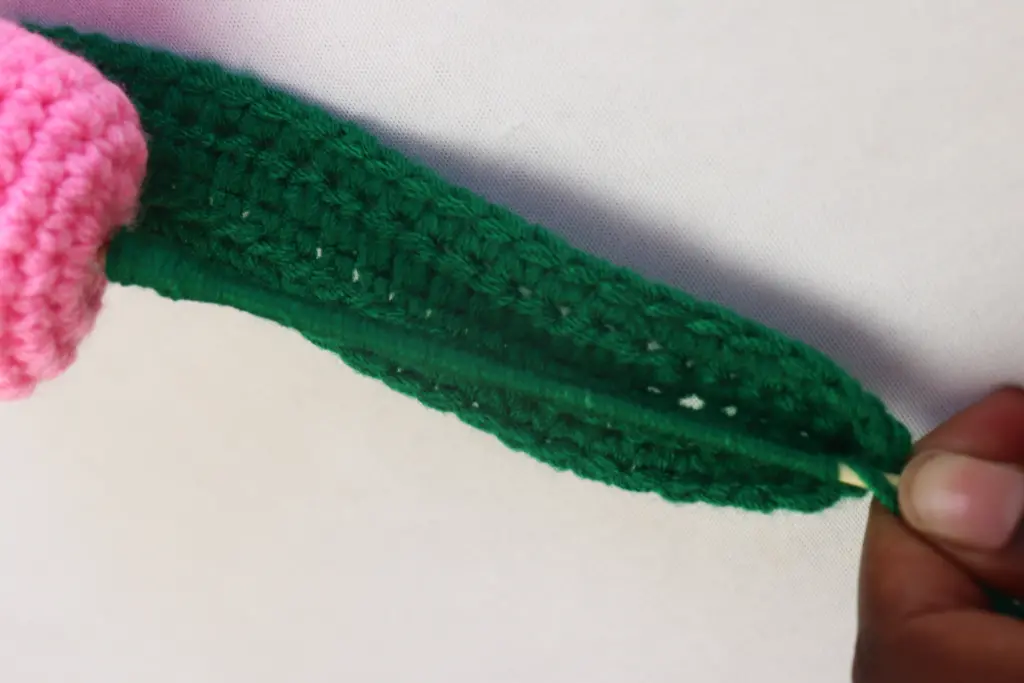 Continue wrapping the green yarn until the end of the dowel. Cut yarn and glue it.
You flower is complete. You can now make one for every friend.
Follow along with the YouTube video.
You loved the free pattern?
Don't forget to share it with us on our Facebook group or tag me on Instagram.
You can support me to post more by buying me a coffee.