This post may contain affiliate links.
I love to read blogs on crochet business income reports just to keep me inspired whenever I feel less motivated to move on. Crochet being a hobby, can sometimes become less fun when you don't see any returns. I believe there are others who crochet for fun and are contented without making money from it and that is okay, but if you want to make some money on the sides, then these success stories are for you.
Crochet business income reports are a clear indication that you do not need any college degree of top tire experience in crochet to earn an income, but consistency, and basic crochet knowledge can get you there. When you have knowledge of basic crochet stitches, and a passion to in what you do, you can be the next success story we share.

One thing that really stood out when i was reading these crochet business income reports is that they all have multiple sources of income. Yes! you can have 10+ crochet income streams that add up to the thousand dollars at the end of the month.
Pros of crochet Business Income Reports.
As said earlier, crochet business income reports Inspire you to believe in yourself that you can also make a substantial amount from your hobby.
They also act as a roadmap to expose you to different streams of income from crochet alone. By this, you can be able to diversify your income sources and even quit the 9-5 and focus on crochet as a full time business.
They Negate the notion that crochet is just an old persons hobby. Yes crochet can be more than just a hobby. It is a full time source of income to many and to some, it pays well more than most 9-5 jobs.
Cons of crochet Business Income Reports.
Beside all the pros of crochet business income reports, consuming the reports without working on your crochet business will make you feel that they are all lies. Yes, crochet can earn you good money but only if you put in the work. You can't earn when you do not sow.
You can also be tempted to reverse engineer another persons methods. This can be detrimental to you because every person has what works for them. What works for me cannot be the same with you.
Find what you love doing and perfect it to be able to earn well from it. Every niche in crochet can generate income for you. Do not start making blankets because another person is earning well from it, if all you want to make is sweaters and cardigans.
Save this post HERE.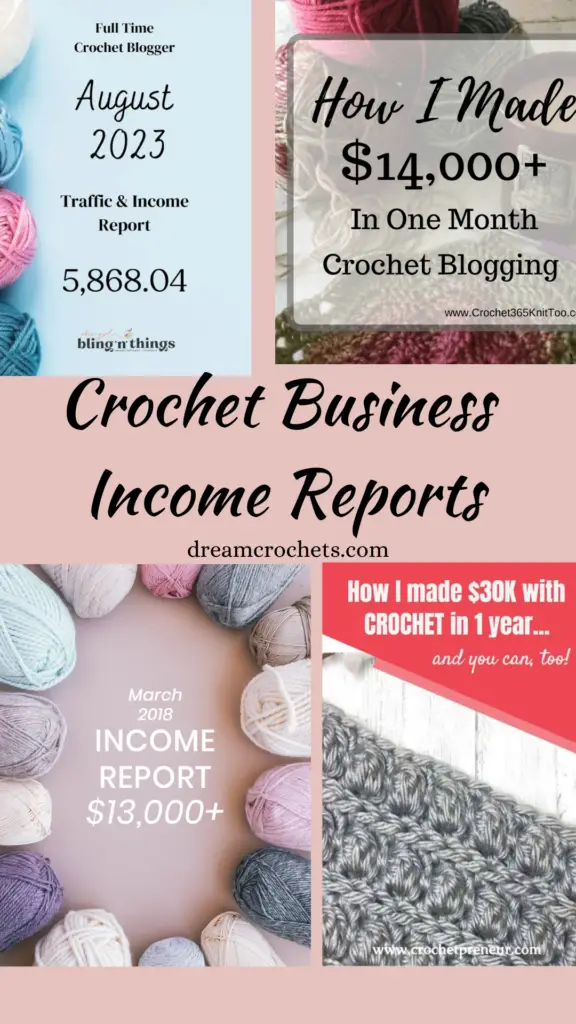 What next?
Always read these crochet business income reports with a clear and open mind.
Put in the work if you want your crochet business to prosper.
Stay original and authentic.
Diversify your crochet income sources.
10 Crochet Business Income Report Success stories.
With income reports from September 2016 to May 2018, Ashleigh has shared details on how she was able to increase her income month after month. Check out her Income reports Here.
With only 5 Income reports, Cheryl is so generous to share with us all her income sources and expenses from each of those. See her Reports here.
If you don't know Pam, then this is the time you should follow her. From a crochet blogger to a crochet business coach, Pam's business is a success story you shouldn't miss. She hosts coaching lessons for crochet business owners, so if you want to scale your crochet business, you should enroll to her Crochet Business Academy. See her reports here.
Kylee is my current favorite Income report blogger. She has income reports as current as August 2023 with traffic details. This means that you can still earn from crochet Business today. Be sure to check her out HERE and learn from her.
Alysha's Income reports were the first i came across. Just like other income reports, she details her income streams and monthly expenses. You can read more of her Income reports here.
Another blog to Inspire you is Rachel's. Her blog desertbloomcrafts is a stunner and you can find her income report here.
Another current income report is of Veronica. She is from Finland and makes crochet amigurumi. She also has a YouTube channel and she broke down her income reports in s a step by step video. Check her out here.
Other crochet business income reports are from crazycoolcrochet, soukainacollections and sitncrochet. They details their income reports and as opposed to other blogs earning USD 1000+, these shows you how you can still earn money without heavy traffic.